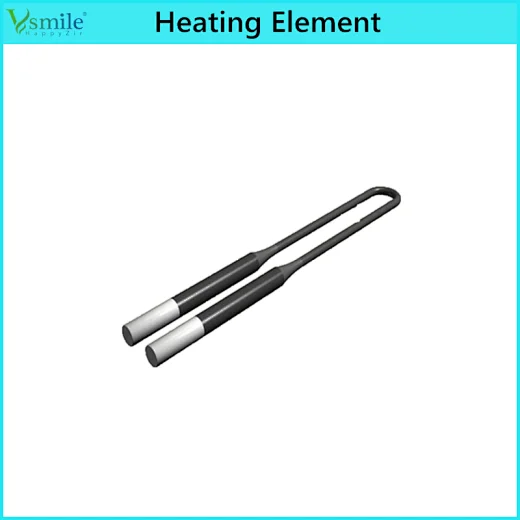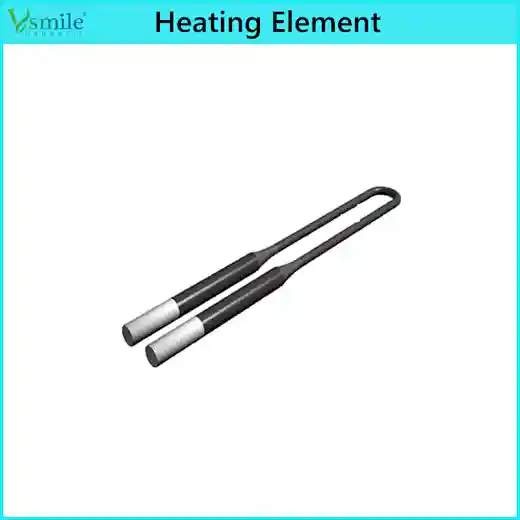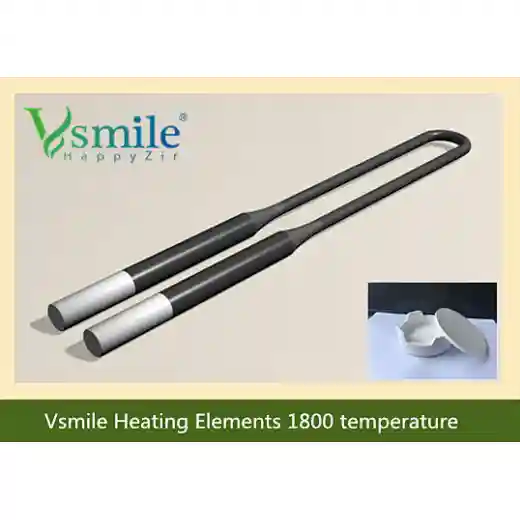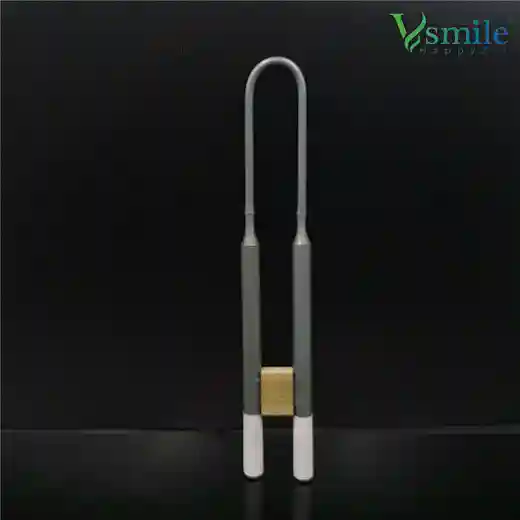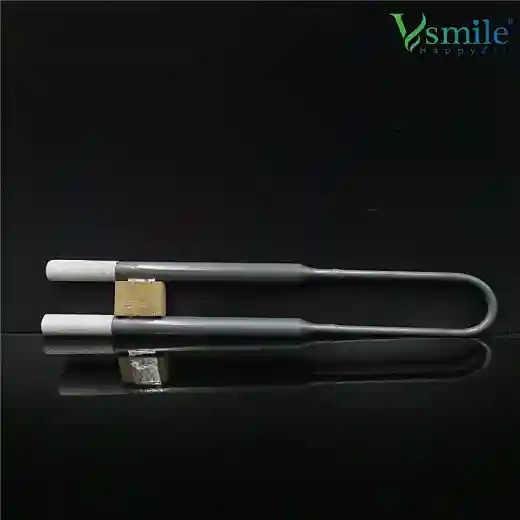 Vsmile High Purity 1800 degree Customized MoSi2 Heating Element
Zirconzahn 600, Naberthram, Vita 6000, Ivoclar funance etc.
High Purity MoSi 2 Heating Elements up to 1800 °C for High-Temperature Furnaces, specially designed and customized for dentistry, non-pollution.
MoSi2 film will be formed on its surface to protect the element against oxidized.
Supply Ability
10000piece / Month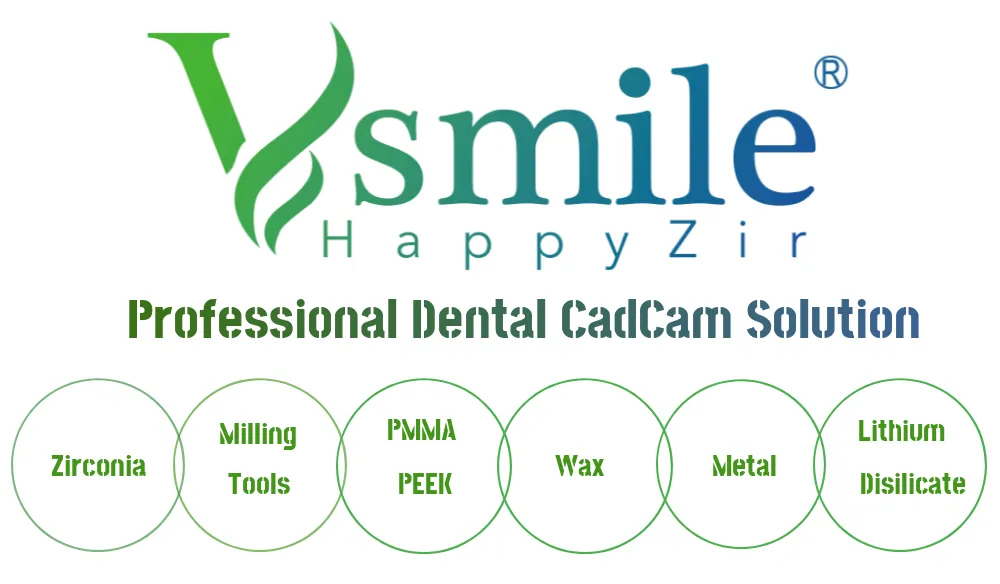 Dentistry MoSi2 Heating Elements for High-Temperature Sintering Furnaces
The Mosi2 heater has the function of antioxidant and auto repair, and suitable for different kinds of continuous working during the oxygen atmosphere. Molding by heat process and model size is standard,
so we can produce special shapes and sizes according to customer requirements. Adopt a special process for joint molding with fasten welding and strong impact resistance. High density and excellent electrical
conductivity, high heating rate, and low power consumption. The old one and the new one could be used together.
Silicon molybdenum heating element is a kind of MoSi2 as the main raw material of non-metallic electric heating elements, It can be used as heating elements of industrial high-temperature furnaces, widely used
in the dental industry, metallurgy, ceramics, refractories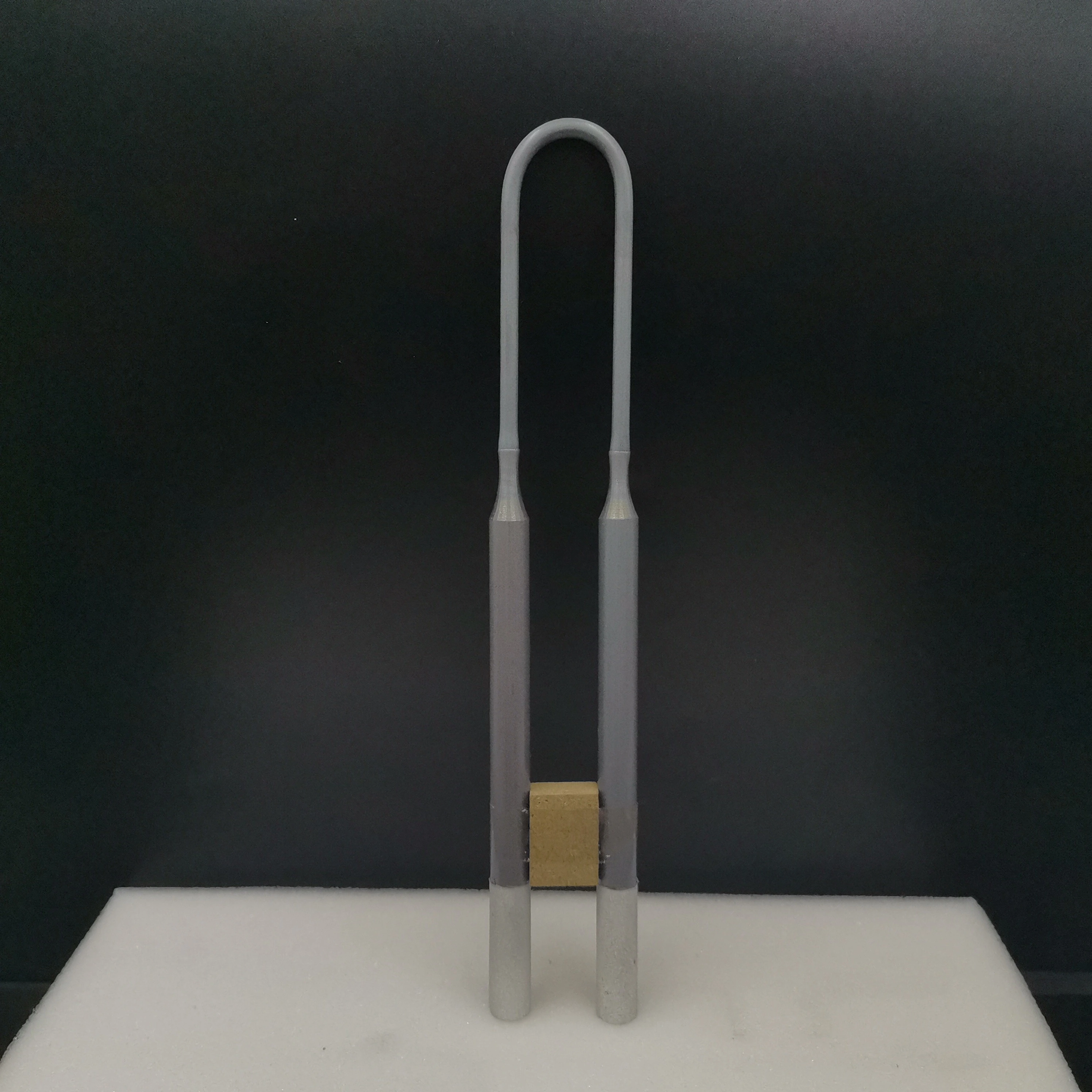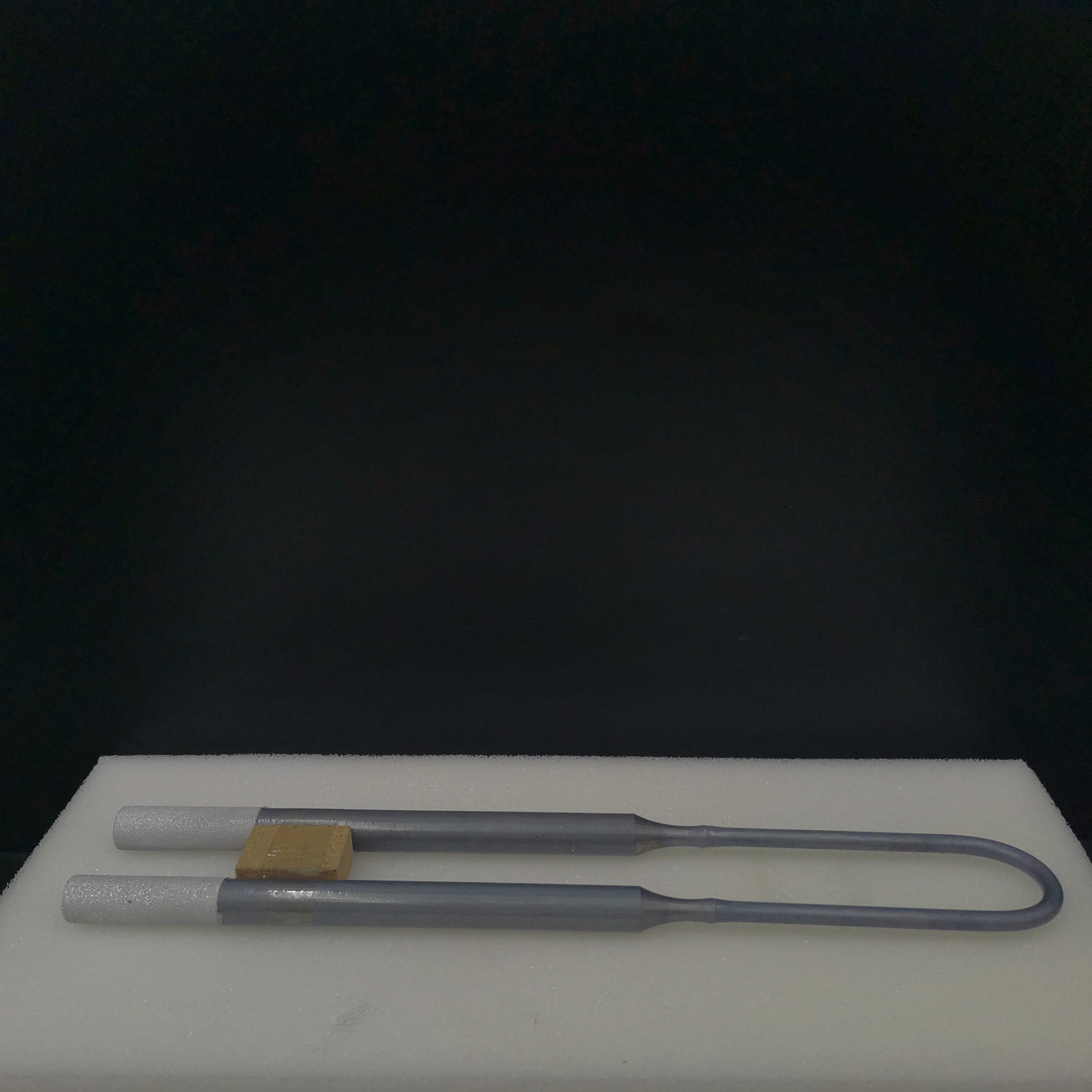 Custom sizes made for Zirkonzahn 600, Ivoclar, Nabertherm...
Special Size Customizable.
Please confirm the following data before order our MoSi2 Heating Elements:
Diameter: D1, D2 Heating zone length: Le Cooling zone length: Lu The distance between two terminals: A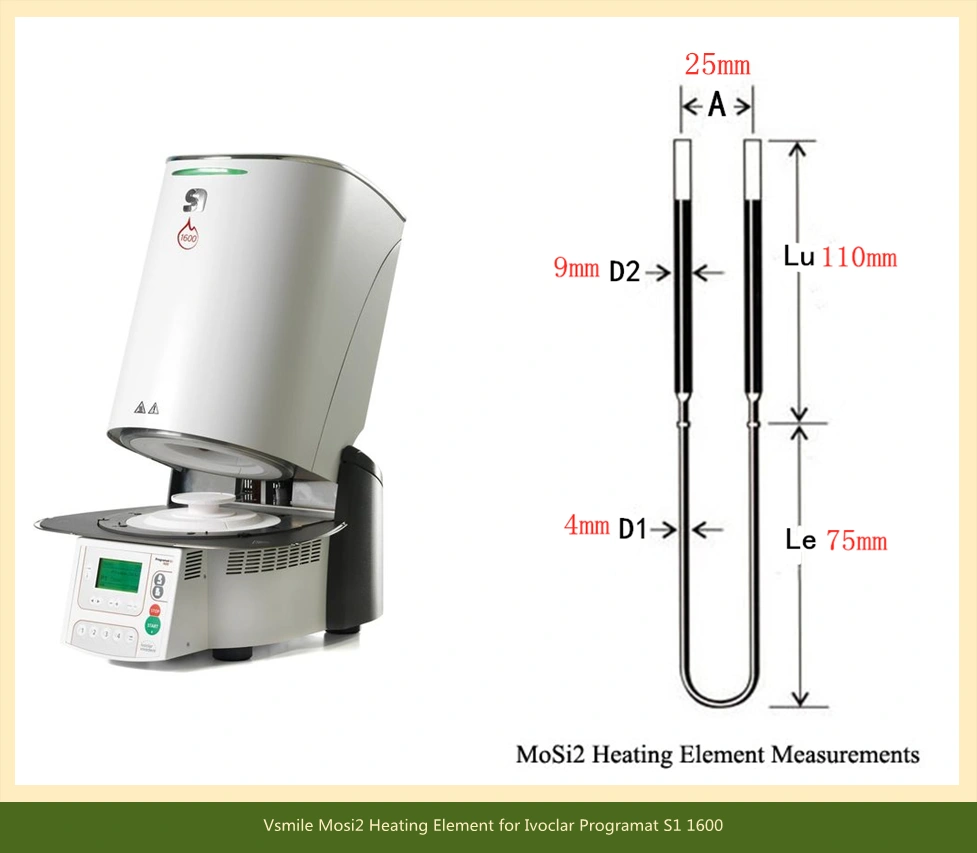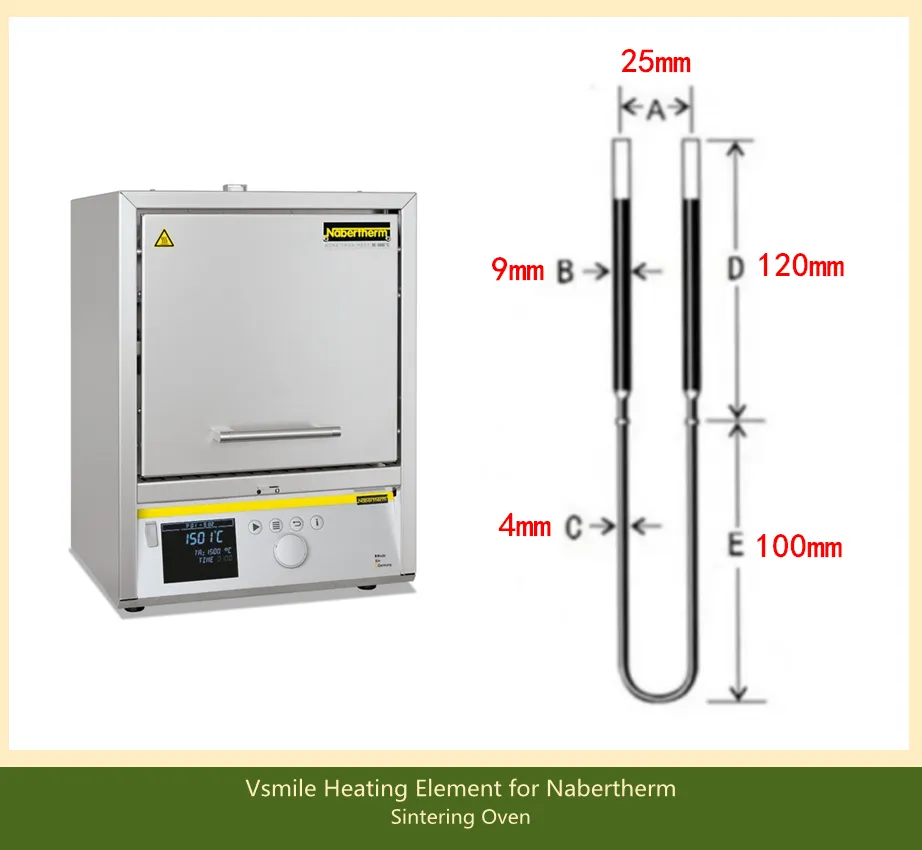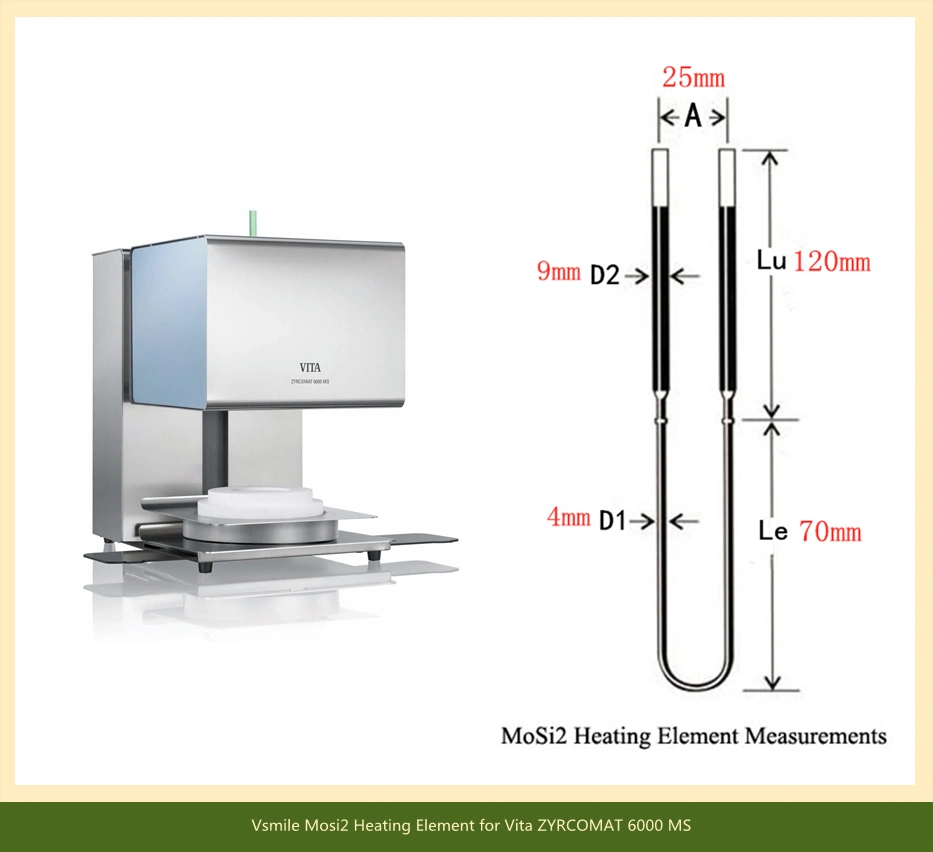 We also provide the braided tapes including single-end and double-end, like below picture shows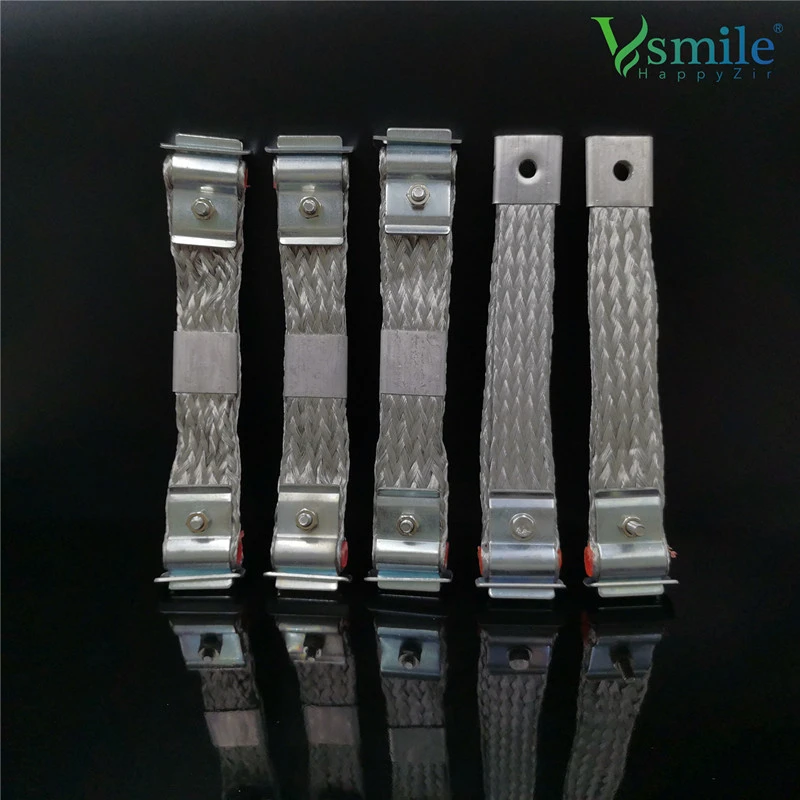 High Temperature Antioxidant Property
At a high temperature oxidizing atmosphere, a dense quartz SiO2 protect layer will be generated in the surface of the hot zone to prevent the element from further oxidation.
When the temperature is higher than 1700C, the protection layer would be melt. Due to the effect of surface tension, quartz agglomerating into drops, and loses the protection.
Then continue to use in the oxidizing atmosphere, the quartz protection layer again generate. Note: the element can't be used for a long time in the temperature range of 400C to 700C,
otherwise it will be strongly oxidated and damaged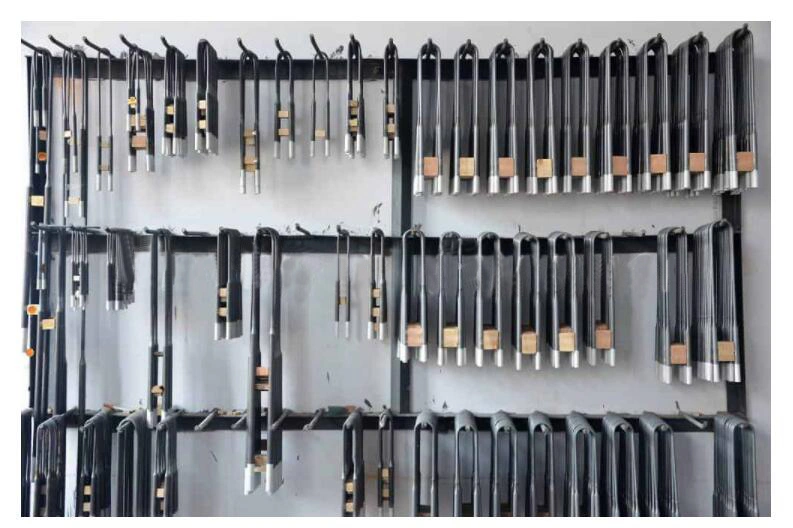 About VSMILE
Vsmile is a China based dental consumables manufacturer which delivers solutions to dental laboratories. We have a professional sales & marketing team that provides our customers with effective service
including inquiry handling, sample preparation, order processing, shipment and documentation. Meeting and exceeding our Customers' Expectations is our goal.
Contact us today to find out how we can help you save money every month and keep your lab running at peak efficiency. With Vsmile's professional assistance, you can expect outstanding results.
Vsmile take part in worldwide dental fairs to introduce Vsmile Happyzir to all users and to help our distributors to gain more clients and supports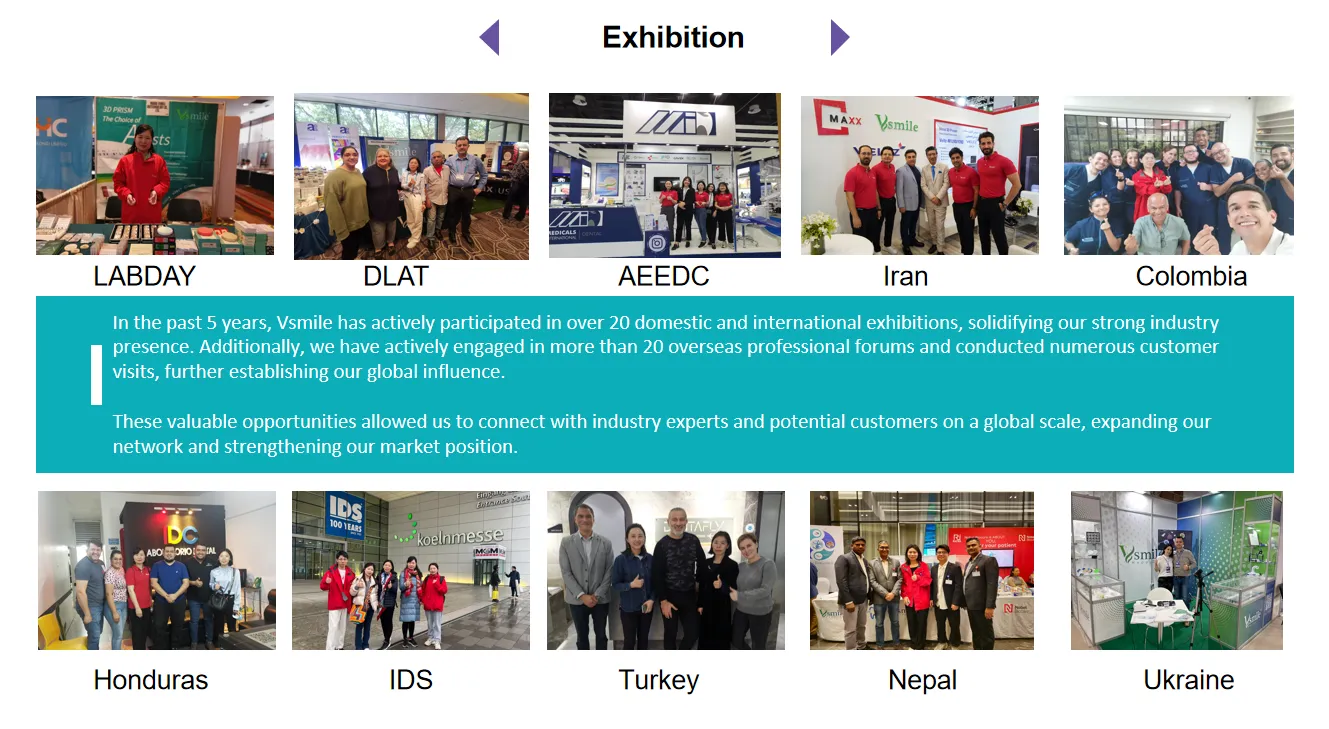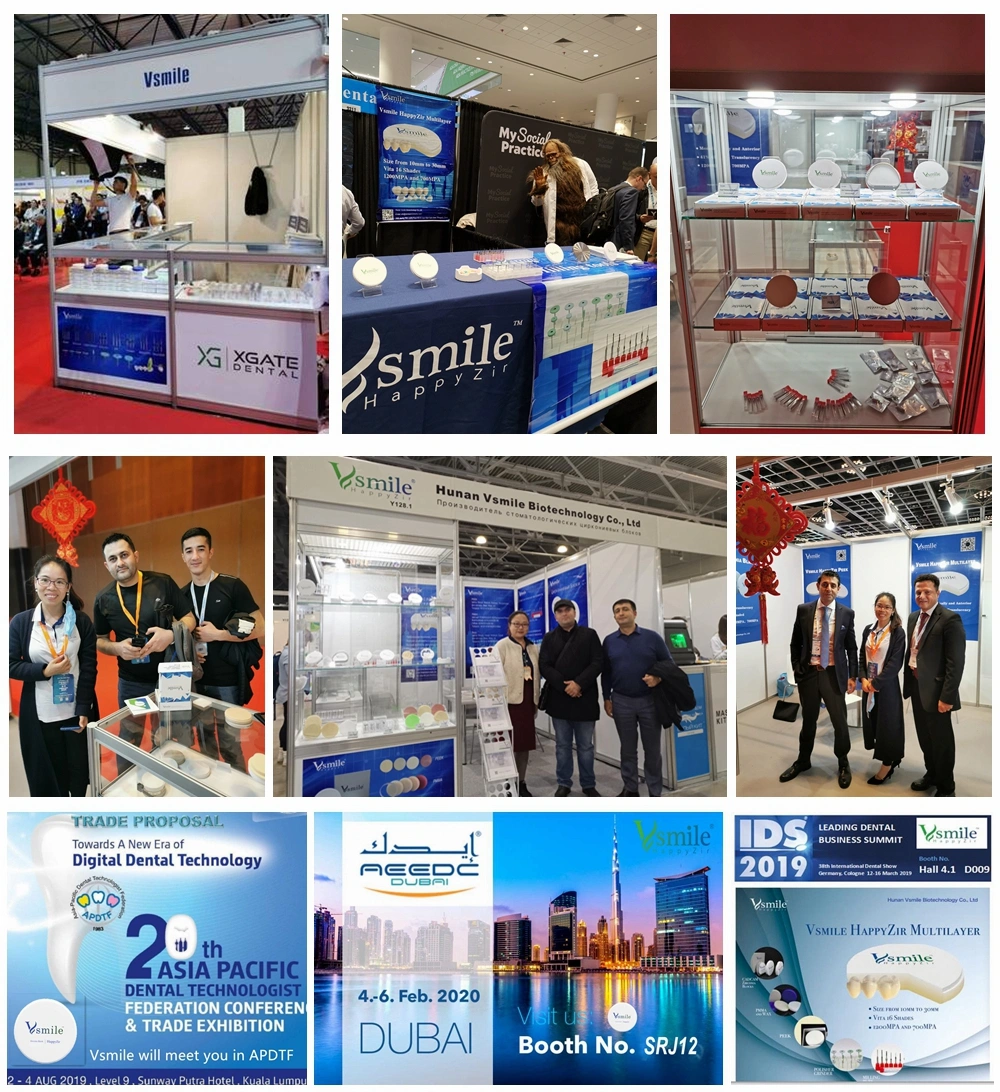 Vsmile welcome for more partners to repersent our products, and "Light up your flag"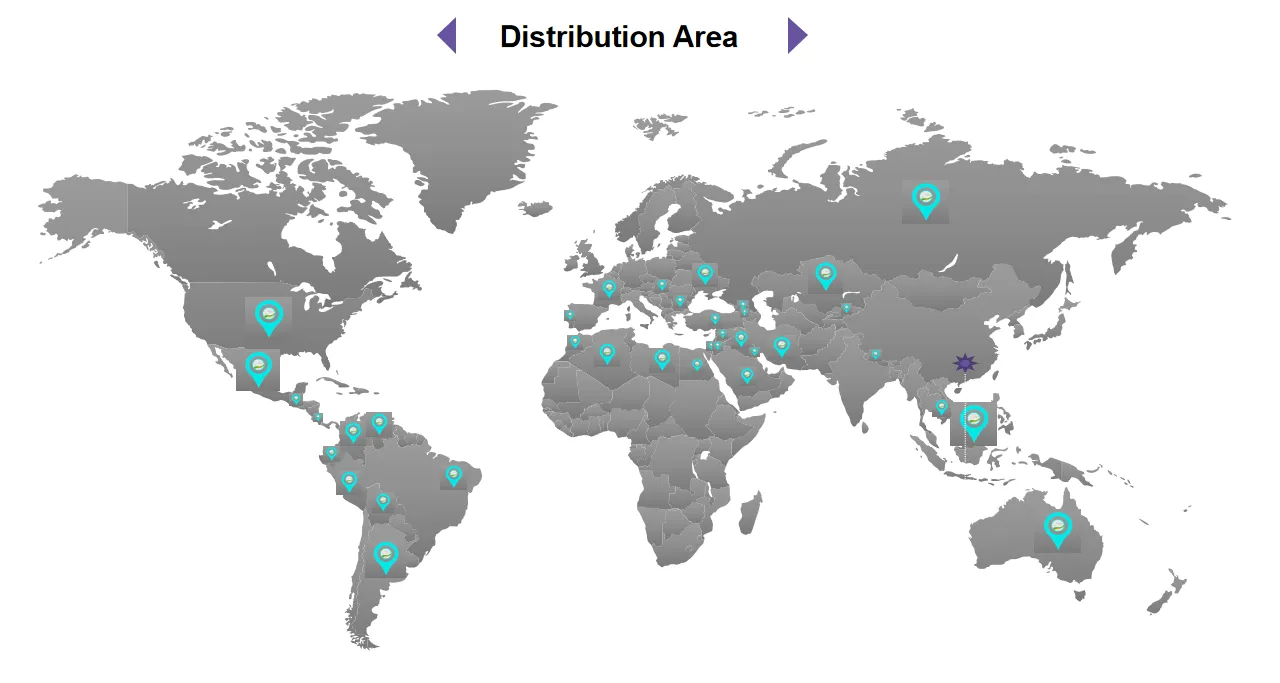 You can find Vsmile on those platforms to know more about us, and to contact us for better service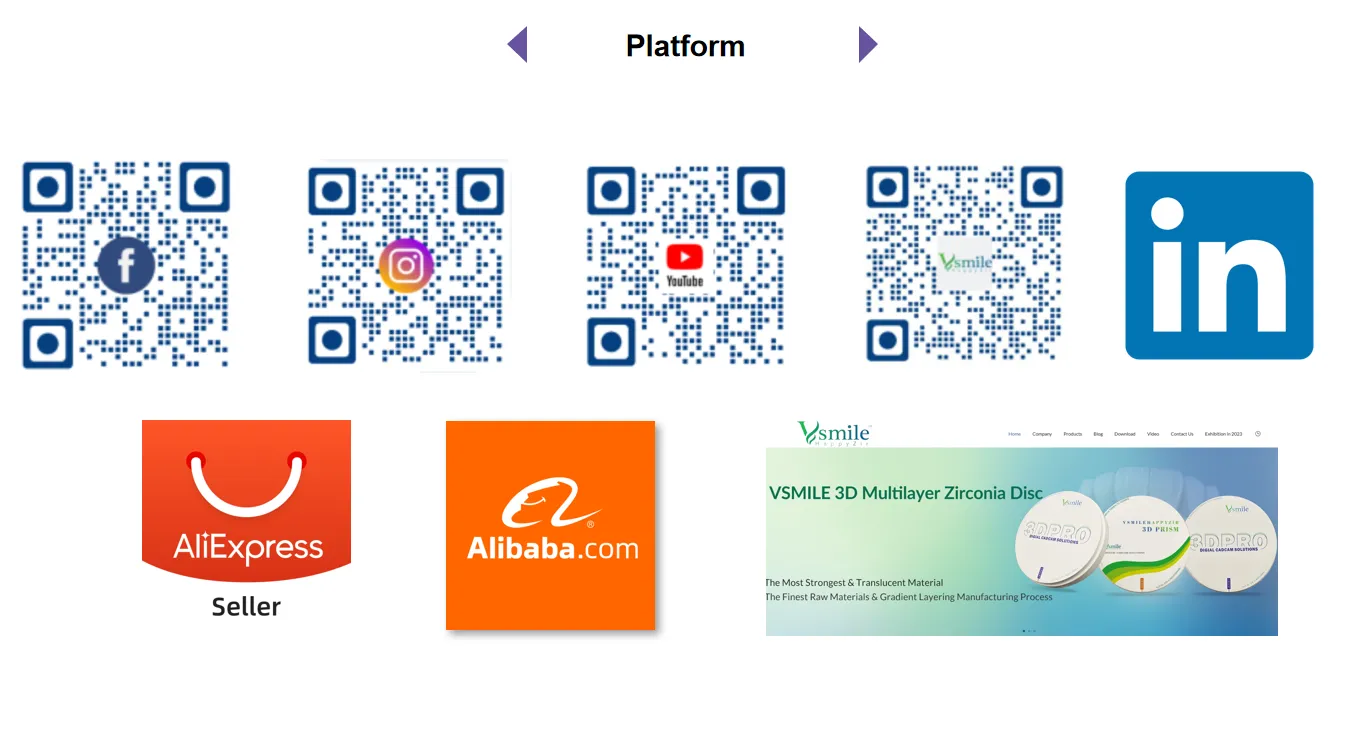 Packing & Shipping