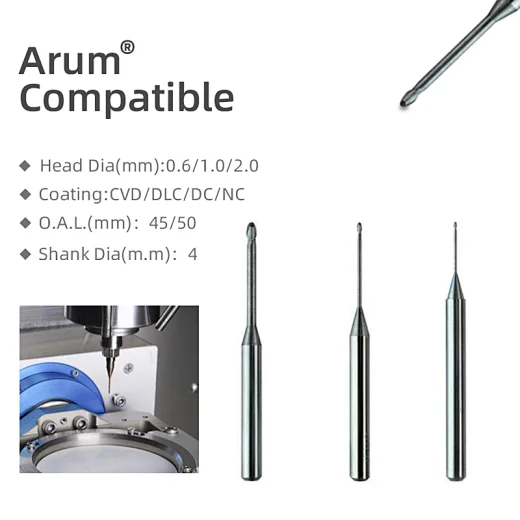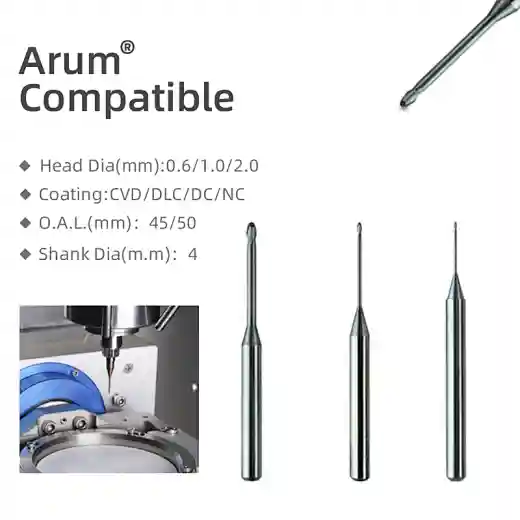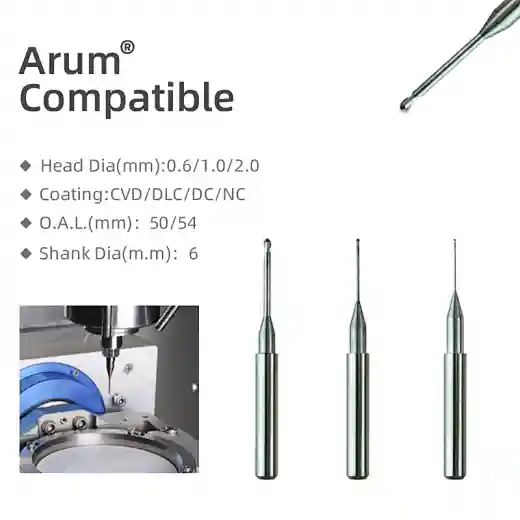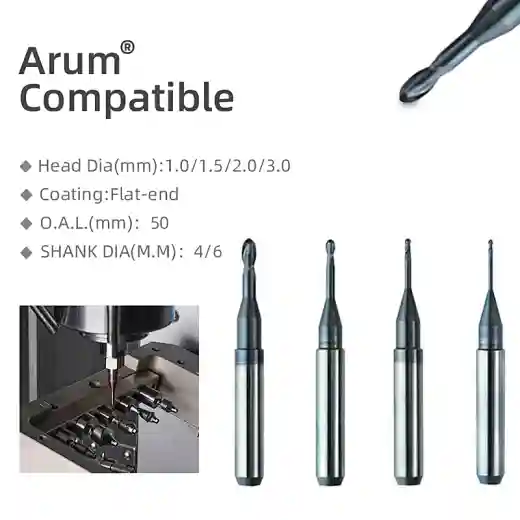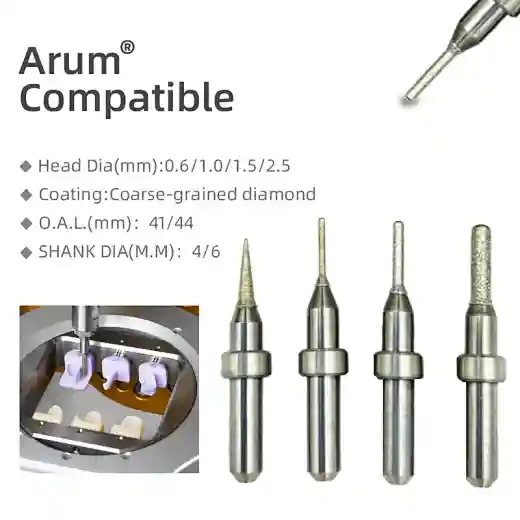 Vsmile Milling Burs Compatible with Arum for Zirconia/PMMA/PEEK/Wax/Titanium Metal Blank
Compatible with Arum 5X-400/5X-200/5X-500/5X-450
Vsmile Milling Burs are superior dental burs that work with Arum machines to mill various materials, such as zirconia, PMMA, PEEK, and wax blanks.
With Vsmile Milling Burs, dental practices get precise results that save both time and money.
The burs are durable, reliable, and deliver consistent outcomes, resulting in greater efficiency in digital dentistry.

DLC Coating Milling Quantity: 120-150 units
Diamond Coating(DC) Milling Quantity: 300-500 units
CVD Germnay Coating Milling Quantity: 500-800 units
Supply Ability
10000piece / Month
Vsmile provides the top quality of different burs worldwide at the most competitive price.
Three coatings burs available for different materials Zirconia/PMMA/Lithium Disilicate/Metal:
DLC Coating, coating like a diamond. which is the coatings of burs for different materials like zirconia, wax, PMMA,peek, etc. (non-metal products)
Which is more suitable for the milling machine to mill a similar quantity of different materials.
Diamond Coating, which is the most popular coating around the world, which is mainly works for zirconia because of its characteristic.
Which is more suitable for bulk zirconia milling machines
CVD Coating, best burs for zirconia milling, to make sure best milling result, can mill 500-800 units.
Arum Burs For Milling Zirconia:  Shank 4mm compatible to model 5X-400, 5X-300PRO, 5X-300D; shank 6mm compatible to model 5X-200, 5X-500L, 5X-450, 5X-500
1, CVD coating- Milling Quantity: 500-800 units
| | | | | |
| --- | --- | --- | --- | --- |
| Burs No. | Head dia(mm) | Shank dia(mm) | Overall length(mm) | MFG |
| AR101UL | 0.6 | 4.0 | 45 | ZB-48 |
| AR102UL | 1.0 | 4.0 | 50 | ZB-47 |
| AR103UL | 2.0 | 4.0 | 50 | ZB-46 |
| | | | |
| --- | --- | --- | --- |
| Burs No. | Head dia(mm) | Shank dia(mm) | Overall length(mm) |
| AR402UL | 1.0 | 6.0 | 54 |
| AR403UL | 2.0 | 6.0 | 55 |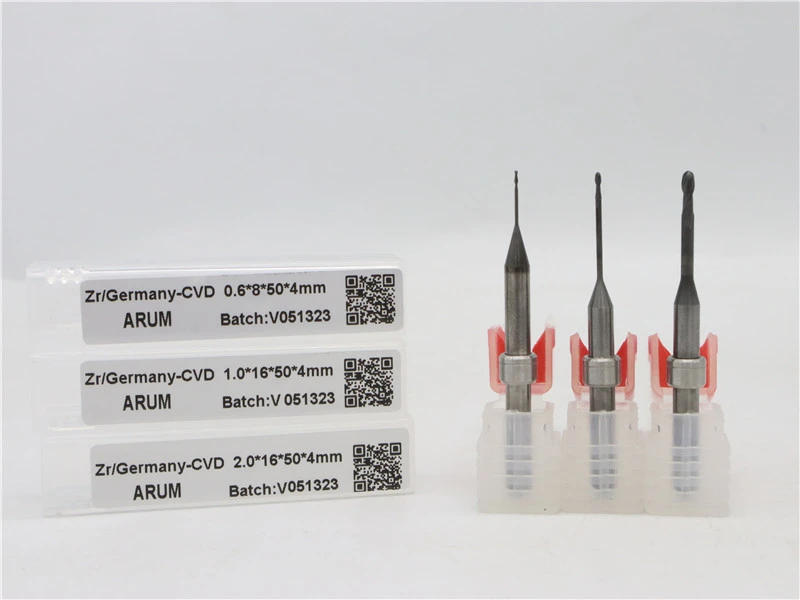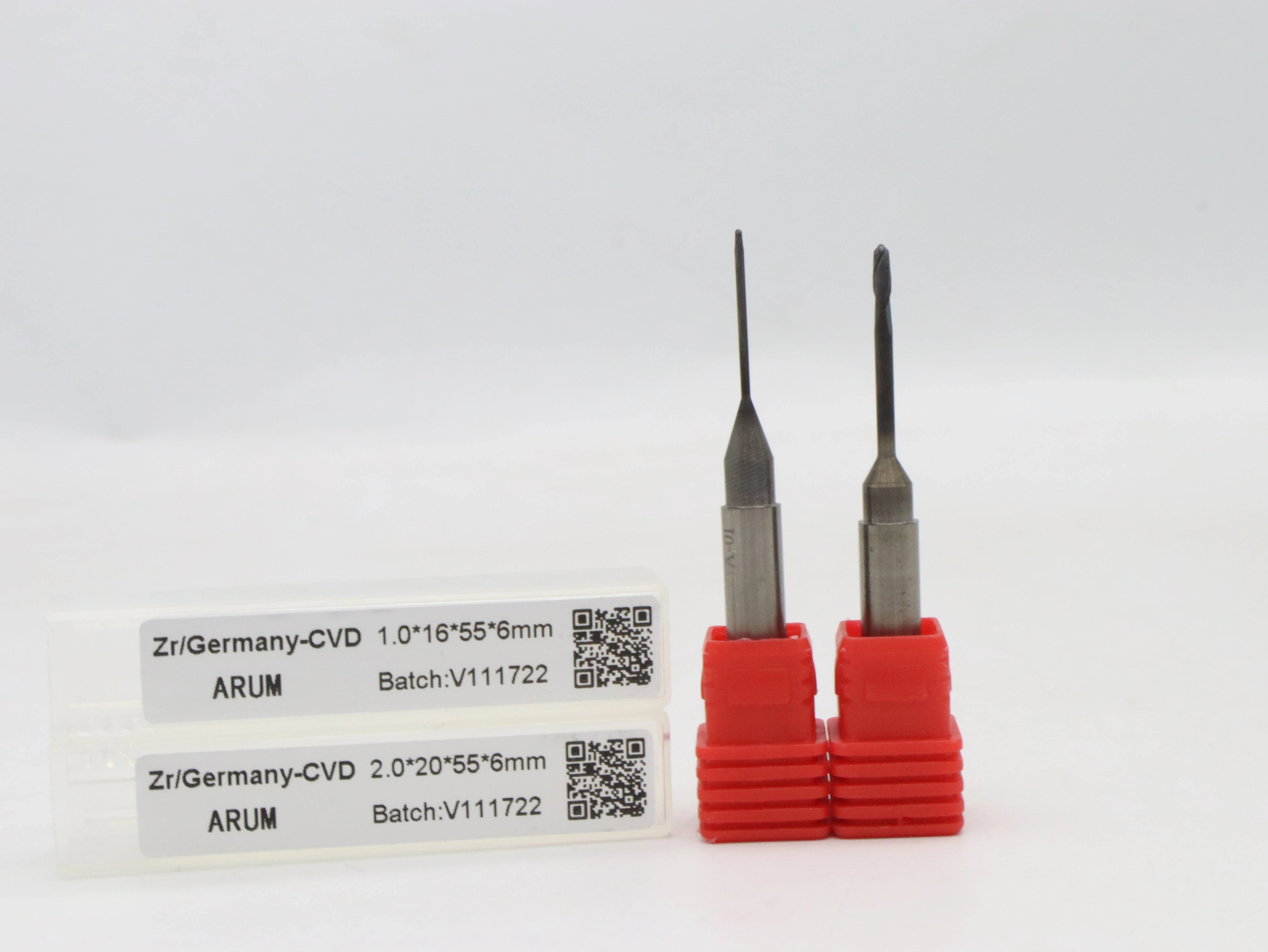 2,Diamond coating- Milling Quantity: 300-500 units(mostly stable batch could mill 800 units without any problems)
| | | | | |
| --- | --- | --- | --- | --- |
| Burs No. | Head dia(mm) | Shank dia(mm) | Overall length(mm) | MFG |
| AR101UL | 0.6 | 4.0 | 45 | ZB-48 |
| AR102UL | 1.0 | 4.0 | 50 | ZB-47 |
| AR103UL | 2.0 | 4.0 | 50 | ZB-46 |
| | | | |
| --- | --- | --- | --- |
| Burs No. | Head dia(mm) | Shank dia(mm) | Overall length(mm) |
| AR401UL | 0.6 | 6.0 | 50 |
| AR402UL | 1.0 | 6.0 | 54 |
| AR403UL | 2.0 | 6.0 | 55 |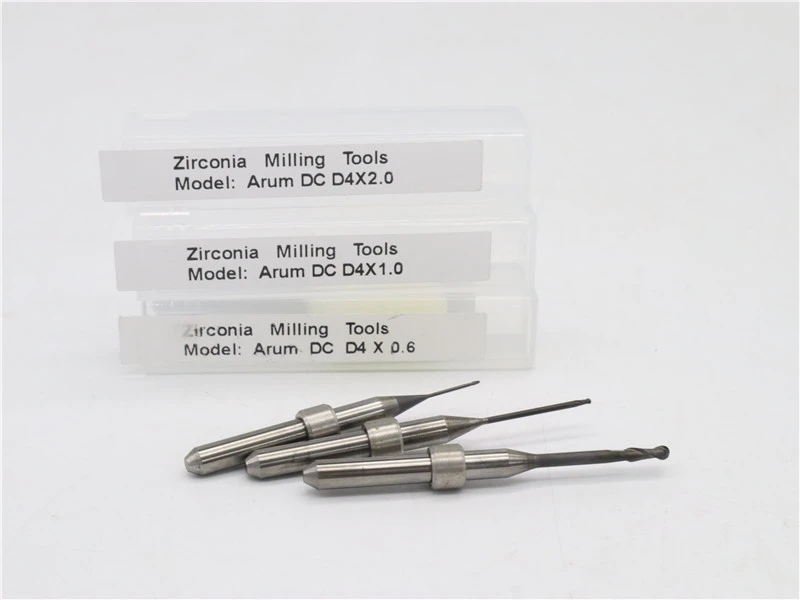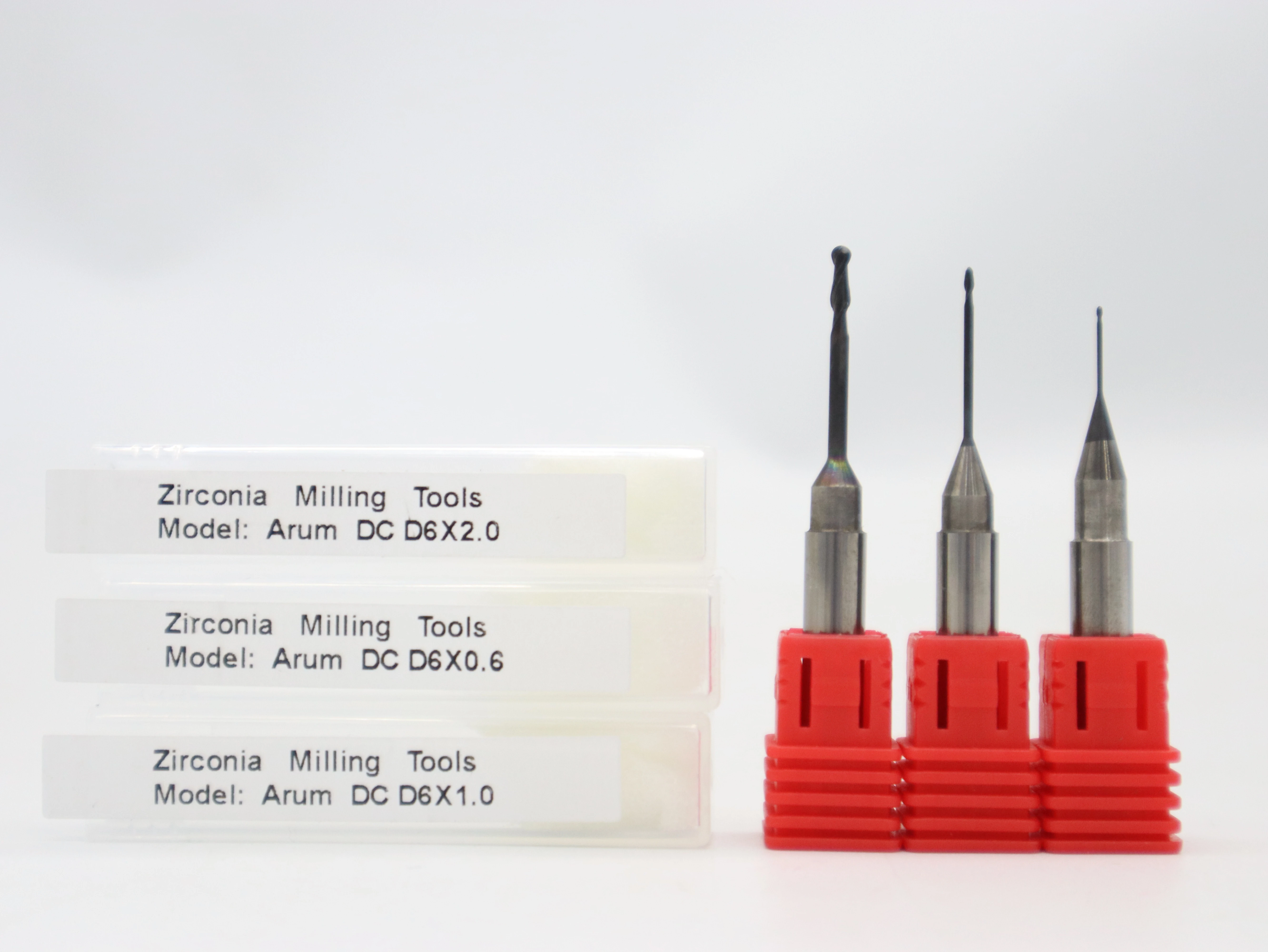 3, Diamond-like DLC coating, Milling Quantity: 100-150 units(mostly stable batch could mill 100 units without any problems)
| | | | | |
| --- | --- | --- | --- | --- |
| Burs No. | Head dia(mm) | Shank dia(mm) | Overall length(mm) | MFG |
| AR101UL | 0.6 | 4.0 | 45 | ZB-48 |
| AR102UL | 1.0 | 4.0 | 50 | ZB-47 |
| AR103UL | 2.0 | 4.0 | 50 | ZB-46 |
| | | | |
| --- | --- | --- | --- |
| Burs No. | Head dia(mm) | Shank dia(mm) | Overall length(mm) |
| AR401UL | 0.6 | 6.0 | 50 |
| AR402UL | 1.0 | 6.0 | 54 |
| AR403UL | 2.0 | 6.0 | 55 |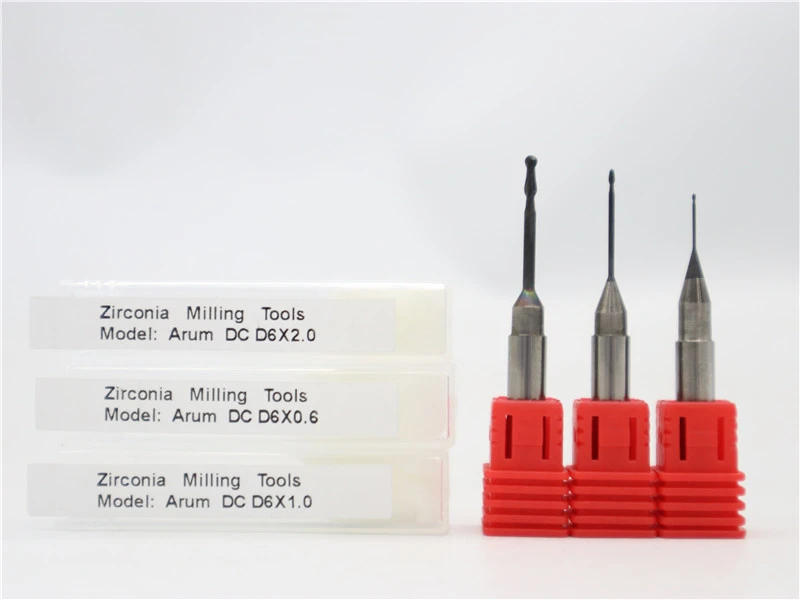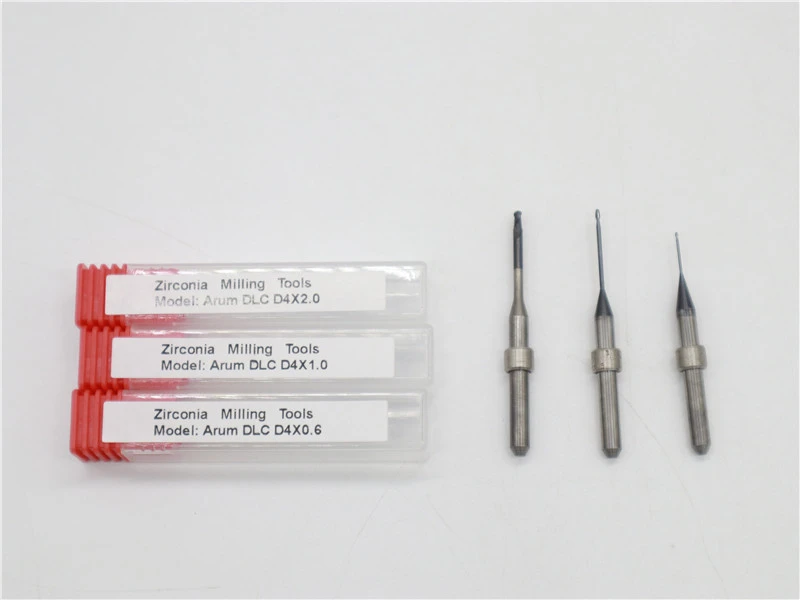 Arum Burs For Milling PMMA/WAX
| | | | | |
| --- | --- | --- | --- | --- |
| Burs No. | Head dia(mm) | Shank dia(mm) | Overall length(mm) | MFG |
| AR101UL | 0.6 | 4.0 | 45 | |
| AR102UL | 1.0 | 4.0 | 50 | PB-51 |
| AR103UL | 2.0 | 4.0 | 50 | PB-49 |
| AR104UL | 1.5 | 4.0 | 50 | PB-50 |
| | | | |
| --- | --- | --- | --- |
| Burs No. | Head dia(mm) | Shank dia(mm) | Overall length(mm) |
| AR401UL | 0.6 | 6.0 | 50 |
| AR402UL | 1.0 | 6.0 | 54 |
| AR403UL | 2.0 | 6.0 | 55 |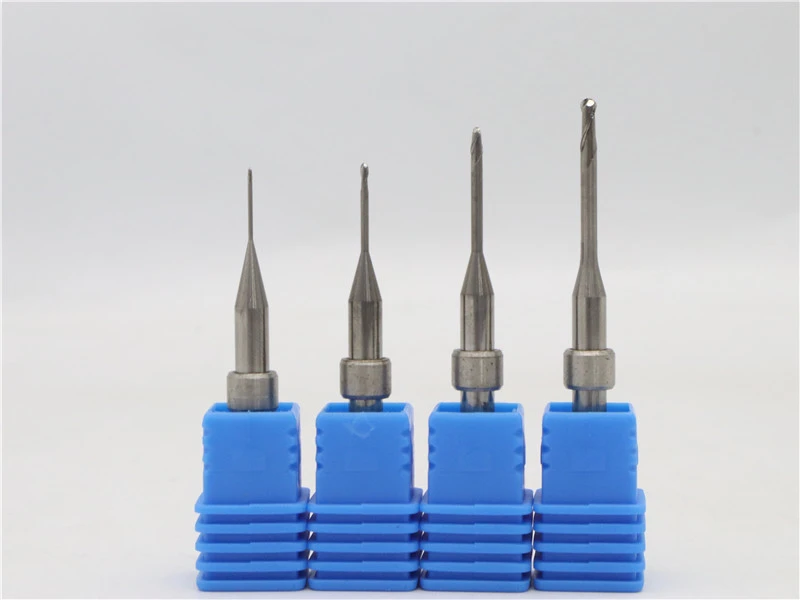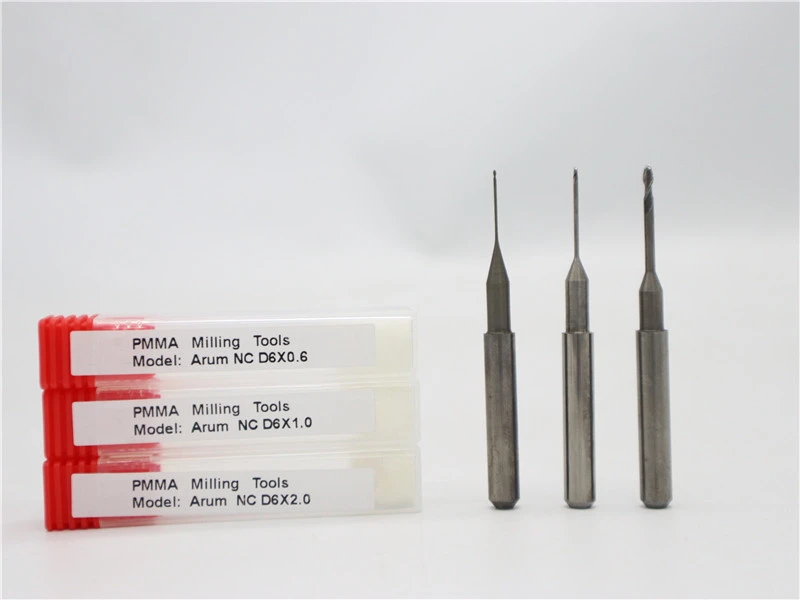 Arum Burs For Milling Lithium Disilicate
| | | | |
| --- | --- | --- | --- |
| Burs No. | Head dia(mm) | Shank dia(mm) | Overall length(mm) |
| AR201SIC | 0.6 | 4.0 | 41 |
| AR202SIC | 1.0 | 4.0 | 44 |
| AR203SIC | 1.5 | 4.0 | 44 |
| AR204SIC | 2.5 | 4.0 | 44 |
| | | | |
| --- | --- | --- | --- |
| Burs No. | Head dia(mm) | Shank dia(mm) | Overall length(mm) |
| AR501SIC | 0.6 | 6.0 | 50 |
| AR502SIC | 1.0 | 6.0 | 50 |
| AR503SIC | 1.5 | 6.0 | 50 |
| AR504SIC | 2.5 | 6.0 | 55 |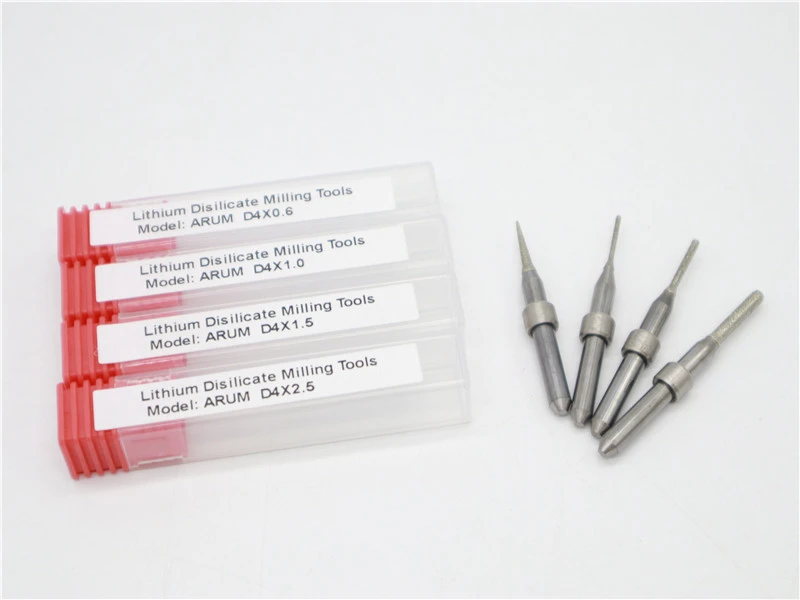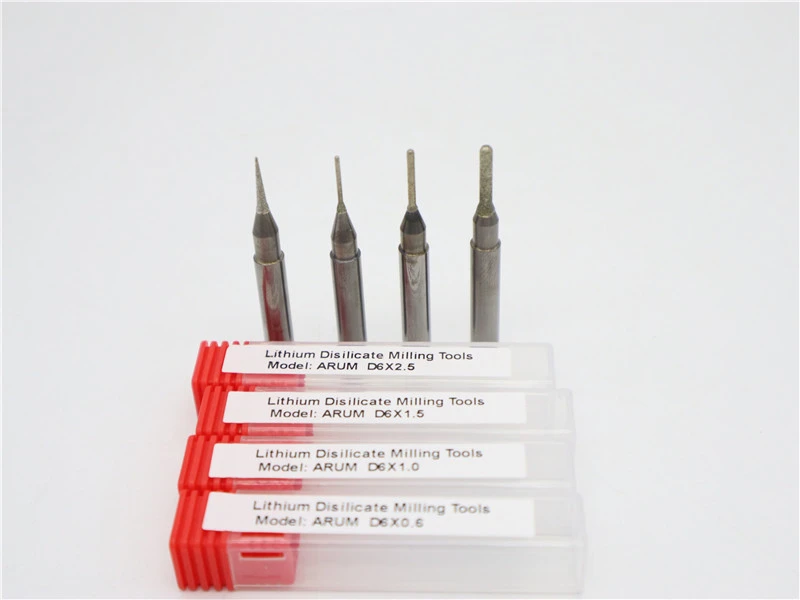 Arum Burs For Milling metal blank/Titanium disc
​​​​​​​Ball End metal
| | | | |
| --- | --- | --- | --- |
| Burs No. | Head dia(mm) | Shank dia(mm) | Overall length(mm) |
| AR301TS | 1.0 | 4.0 | 50 |
| AR302TS | 1.5 | 4.0 | 50 |
| AR303TS | 2.0 | 4.0 | 50 |
| | | | | |
| --- | --- | --- | --- | --- |
| Burs No. | Head dia(mm) | Shank dia(mm) | Overall length(mm) | MFG |
| AR601TS | 0.6 | 6.0 | 50 | MB-14 |
| AR602TS | 1.0 | 6.0 | 50 | MB-12 |
| AR603TS | 1.5 | 6.0 | 50 | MB-11 |
| AR604TS | 2.0 | 6.0 | 50 | MB-10 |
| AR605TS | 3.0 | 6.0 | 50 | MB-09 |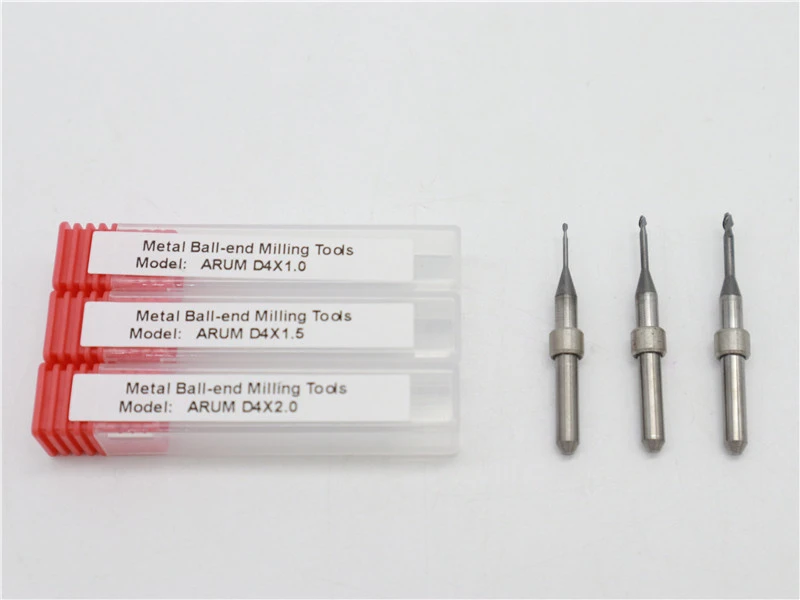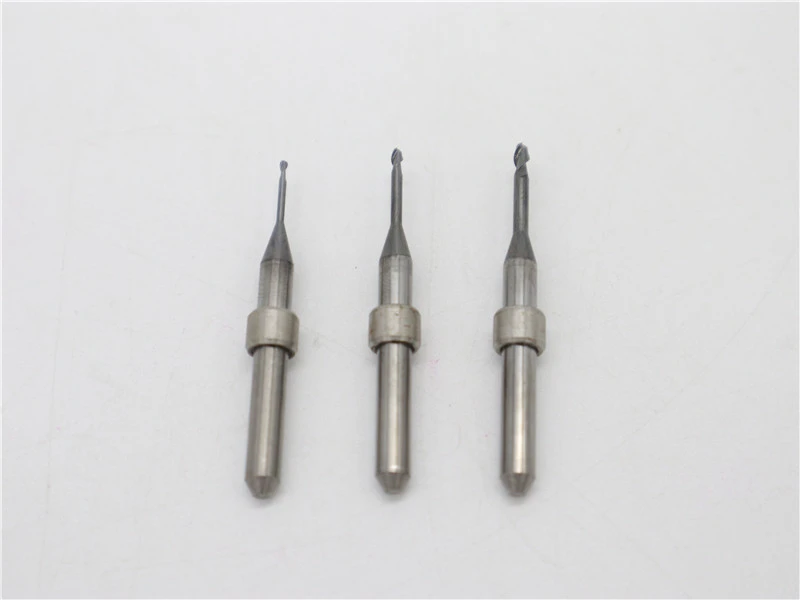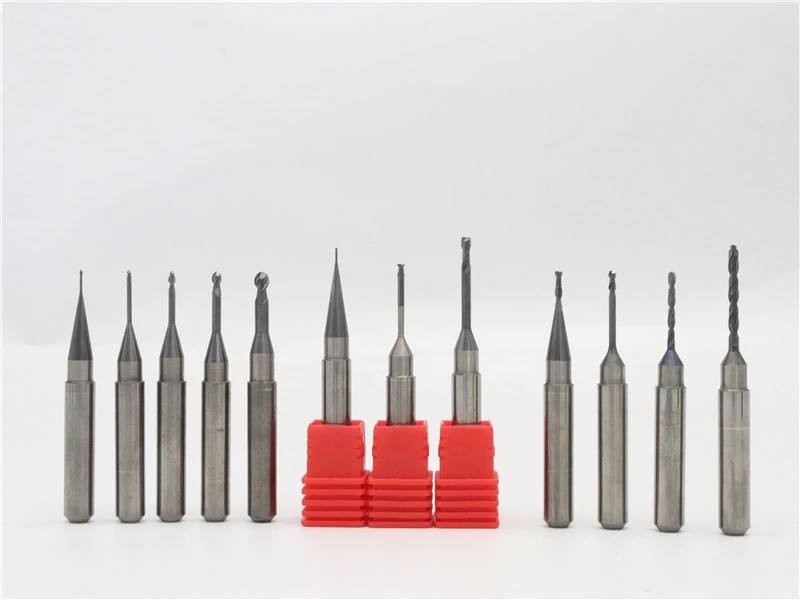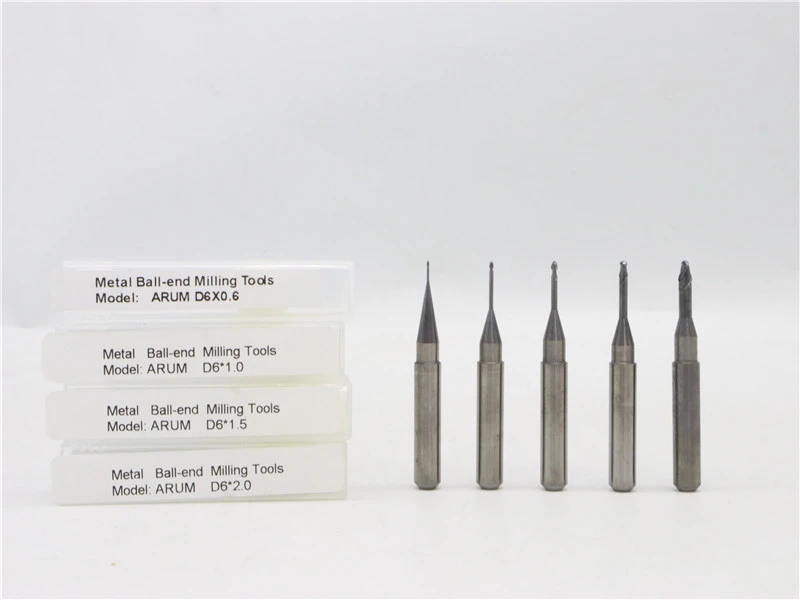 Flat End metal
| | | | | |
| --- | --- | --- | --- | --- |
| Burs No. | Head dia(mm) | Shank dia(mm) | Overall length(mm) | MFG |
| AR701TSF | 0.6 | 6.0 | 50 | MF-71 |
| AR701TSF | 1.5 | 6.0 | 50 | MF-45 |
| AR701TSF | 2.0 | 6.0 | 50 | MF-15 |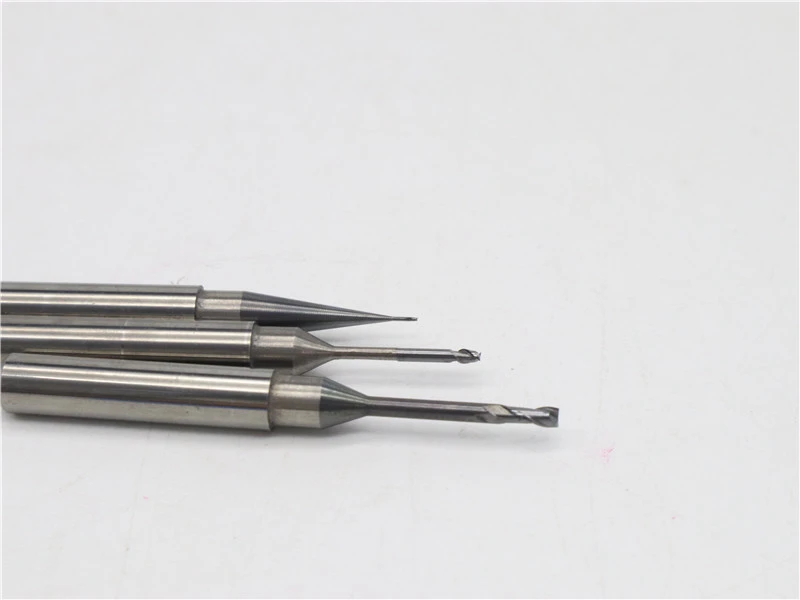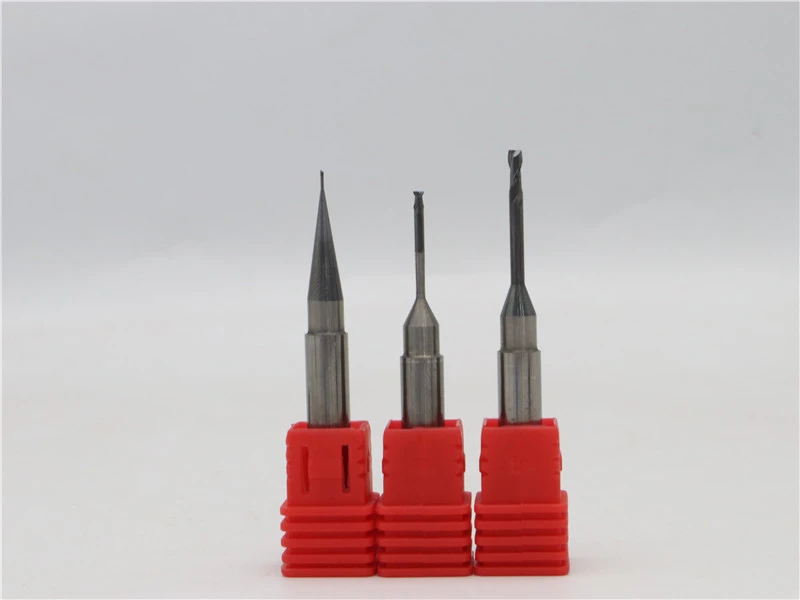 Nose & Drill End metal​​​​​​​
| | | | | |
| --- | --- | --- | --- | --- |
| Burs No. | Head dia(mm) | Shank dia(mm) | Overall length(mm) | MFG |
| AR801TST | 1.5*L05 | 6.0 | 50 | MFR-44 |
| AR802TST | 1.5*L14 | 6.0 | 50 | MFR-66 |
| AR901TSD | 1.5 | 6.0 | 50 | MD-18 |
| AR902TSD | 2.0 | 6.0 | 50 | MD-19 |